2018 NBA All-Star Teams to be Exclusively Unveiled on TNT Live from Los Angeles, Thursday, Jan. 25, at 7 p.m. ET
Monday, January 22, 2018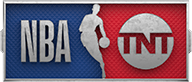 2018 NBA All-Star Teams to be Exclusively Unveiled on TNT
Live from Los Angeles, Thursday, Jan. 25, at 7 p.m. ET
NBA All-Star Reserves to be Announced Tomorrow, Tuesday, Jan. 23, at 7 p.m.
Ahead of Players Only Game Coverage on TNT at 8 p.m.
Thursday's NBA on TNT regular season doubleheader coverage will be preceded by the exclusive unveiling of this year's NBA All-Star teams during a special one-hour pregame show live from Los Angeles at 7 p.m. ET. Ernie Johnson, Charles Barkley, Kenny Smith and Shaquille O'Neal will be on location to share the results of this year's first-ever NBA All-Star draft, in which All-Stars were selected to their teams by captains LeBron James and Stephen Curry, the leading vote-getters in their respective conferences.
The network's doubleheader will begin with an inter-conference matchup of the Washington Wizards and John Wall visiting the Oklahoma City Thunder and Russell Westbrook at 8 p.m. The defending NBA Champion Golden State Warriors and Stephen Curry will then host the Minnesota Timberwolves and Karl-Anthony Towns at 10:30 p.m. The Inside the NBA studio team will also provide halftime and postgame analysis throughout the night.
All-Star reserves will be announced tomorrow, Jan. 23, at 7 p.m. during a one-hour pregame show ahead of the return of the Players Only franchise to TNT. Studio host Chris Webber and analysts O'Neal, Isiah Thomas and Baron Davis will unveil the seven remaining All-Star selections from each conference. Tomorrow's doubleheader will feature Cavaliers vs. Spurs at 8 p.m. and Celtics vs. Lakers at 10:30 p.m.
The network's live game schedule and telecast notes follow.
| | | | | | | | | | | | | | | | |
| --- | --- | --- | --- | --- | --- | --- | --- | --- | --- | --- | --- | --- | --- | --- | --- |
| A | D | D | I | T | I | O | N | A | L | | N | O | T | E | S |
•
Throughout Tuesday's TNT coverage, Kevin Garnett will add his perspective and commentary with guests Rasheed Wallace, Eddie House and Teresa Edwards from Area 21. Select Area 21 segments will air on TNT, with additional content running on Facebook and Twitter.
•
Tuesday, Jan. 23

7 p.m. ET – Players Only Pregame Show presented by Autotrader
NBA All-Star Reserves
Chris Webber, Shaquille O'Neal, Isiah Thomas & Baron Davis

8 p.m. ET – Cleveland Cavaliers vs. San Antonio Spurs
Greg Anthony, Kevin McHale, Richard Hamilton & Dennis Scott

10:30 p.m. – Boston Celtics vs. Los Angeles Lakers
Brent Barry, Grant Hill, Derek Fisher & Caron Butler

Players Only Postgame presented by KIA
Webber, O'Neal, Thomas & Davis
Garnett, Rasheed Wallace, Eddie House & Teresa Edwards in Area 21

•
Thursday, Jan. 25

7 p.m. ET – TNT NBA Tip-Off presented by Autotrader
NBA All-Star Teams
Ernie Johnson, Charles Barkley, Kenny Smith & O'Neal

8 p.m. – Washington Wizards vs. Oklahoma City Thunder
Kevin Harlan, Reggie Miller & Kristen Ledlow

10:30 p.m. – Minnesota Timberwolves vs. Golden State Warriors
Marv Albert, Webber & Ros Gold-Onwude

Postgame - Inside the NBA presented by Kia
Johnson, Barkley, Smith & O'Neal

•
TNT will be the exclusive home of NBA All-Star 2018 from L.A., with coverage beginning Friday, Feb. 16 through the live game telecast on Sunday, Feb. 18.
•
Live streaming coverage of all NBA on TNT games is available via http://www.tntdrama.com/watchtnt and the Watch TNT app. Fans are able to access the games whenever and wherever they desire by logging in with the user name and password provided by their TV service provider.
Visit the Turner Sports online press room for additional press materials


Media Contacts: Tony Morreale or Jay Moskowitz, Turner Sports PR

Twitter: @TurnerSportsPR
Facebook: NBA on TNT