NBA on TNT Doubleheader to Showcase High-Scoring Playmakers James Harden, Kyrie Irving, Ben Simmons & Damian Lillard, Thursday, Dec. 28
Tuesday, December 26, 2017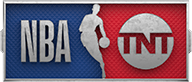 NBA on TNT Doubleheader to Showcase High-Scoring Playmakers James Harden, Kyrie Irving, Ben Simmons & Damian Lillard, Thursday, Dec. 28
Thursday's NBA on TNT regular season doubleheader coverage will feature some of the league's most explosive and creative playmakers in interconference matchups, beginning with the Boston Celtics and All-Star Kyrie Irving hosting the high-powered Houston Rockets and the league's current leading scorer, James Harden, on Thursday, Dec. 28, at 8 p.m. ET. The TNT telecast will not be available locally in the Houston market.
In the nightcap on the network, the young and exciting Philadelphia 76ers with Ben Simmons will visit the Portland Trail Blazers and top scorer Damian Lillard at 10:30 p.m.
The network's live game schedule and telecast notes follow. Click on the below image for a video preview of Thursday's doubleheader.
| | | | | | | | | | | | | | | | |
| --- | --- | --- | --- | --- | --- | --- | --- | --- | --- | --- | --- | --- | --- | --- | --- |
| A | D | D | I | T | I | O | N | A | L | | N | O | T | E | S |
| | |
| --- | --- |
| • | Throughout Thursday's TNT coverage, Kevin Garnett will be joined by a collection of the game's best all-time defenders - Gary Payton, Ben Wallace, Theo Ratliff and Teresa Witherspoon - on Area 21. Select Area 21 segments will air on TNT, with additional content running on Facebook and Twitter. |
| • | Studio coverage from the iconic Inside the NBA team will be led by Ernie Johnson, along with Charles Barkley, Kenny Smith and Shaquille O'Neal throughout the night. |
| • | Marv Albert (play-by-play), Chris Webber (analyst) & David Aldridge (reporter) will call the Rockets vs. Celtics telecast at 8 p.m. |
| • | Kevin Harlan will provide play-by-play for 76ers vs. Blazers, alongside analyst Reggie Miller and reporter Dennis Scott at 10:30 p.m. |
| • | Live streaming coverage of all NBA on TNT games is available via http://www.tntdrama.com/watchtnt and the Watch TNT app. Fans are able to access the games whenever and wherever they desire by logging in with the user name and password provided by their TV service provider. |
Visit the Turner Sports online press room for additional press materials


Media Contacts: Tony Morreale or Jay Moskowitz, Turner Sports PR

Twitter: @TurnerSportsPR
Facebook: NBA on TNT