NBA on TNT to Showcase Three-Time Defending Conference Champions - Warriors & Cavaliers - in Action, Thursday, Dec. 14
Monday, December 11, 2017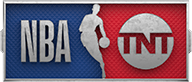 NBA on TNT to Showcase Three-Time Defending Conference Champions
Warriors & Cavaliers in Action, Thursday, Dec. 14
Basketball Legends Oscar Robertson, Julius Erving, George Gervin, Bernard King & Lisa Leslie to Join Kevin Garnett in Area 21 on TNT & Social Platforms
Reggie Miller, Kevin Harlan & Kristen Ledlow to Give Fans Behind-the-Scenes
Access Via Social Takeover on NBA on TNT's Facebook, Twitter & Instagram
Thursday's NBA on TNT regular season doubleheader coverage will feature both of the three-time reigning conference champions – Golden State Warriors & Cleveland Cavaliers – in action on Thursday, Dec. 14. In the night's first game, the Cavs and LeBron James will take on the up-and-coming Los Angeles Lakers and rookie playmaker Lonzo Ball at 8 p.m. ET (TNT's game telecast is not available locally in Cleveland), followed by the Warriors and Kevin Durant hosting the Dallas Mavericks and Dirk Nowitzki at 10:30 p.m. (game telecast not available locally in Golden State).
Basketball legends and Naismith Basketball Hall of Famers Oscar Robertson (Class of 1980), Julius Erving (1993), George Gervin (1996), Bernard King (2013) and Lisa Leslie (2015) will join Kevin Garnett in Area 21 throughout TNT's Thursday NBA coverage, with additional content running on Facebook and Twitter.
Additionally, for the first time, TNT commentators Reggie Miller, Kevin Harlan and Kristen Ledlow will give fans a behind-the-scenes look at Thursday's telecast preparation from their perspectives via a full social takeover from Cleveland, with live content available on the NBA on TNT's Facebook, Twitter and Instagram handles.
The network's live game schedule and telecast notes follow. Click on the below image for a video preview of Thursday's doubleheader.
| | | | | | | | | | | | | | | | |
| --- | --- | --- | --- | --- | --- | --- | --- | --- | --- | --- | --- | --- | --- | --- | --- |
| A | D | D | I | T | I | O | N | A | L | | N | O | T | E | S |
| | |
| --- | --- |
| • | Studio coverage from the iconic Inside the NBA team will be led by Ernie Johnson, along with Charles Barkley, Kenny Smith and Shaquille O'Neal throughout the night. |
| • | Harlan (play-by-play), Miller (analyst) & Ledlow (reporter) will call the Lakers vs. Cavaliers telecast at 8 p.m., with corresponding social media takeover content on the NBA on TNT's Facebook, Twitter & Instagram handles throughout the day. |
| • | Marv Albert will provide play-by-play for Mavericks vs. Warriors, alongside analyst Kevin McHale and reporter Allie LaForce at 10:30 p.m. |
| • | Live streaming coverage of all NBA on TNT games is available via http://www.tntdrama.com/watchtnt and the Watch TNT app. Fans are able to access the games whenever and wherever they desire by logging in with the user name and password provided by their TV service provider. |
Visit the Turner Sports online press room for additional press materials


Media Contacts: Tony Morreale or Jay Moskowitz, Turner Sports PR

Twitter: @TurnerSportsPR
Facebook: NBA on TNT