NBA TV Programming Highlights: October 26, 2017
Thursday, Oct. 26, 2017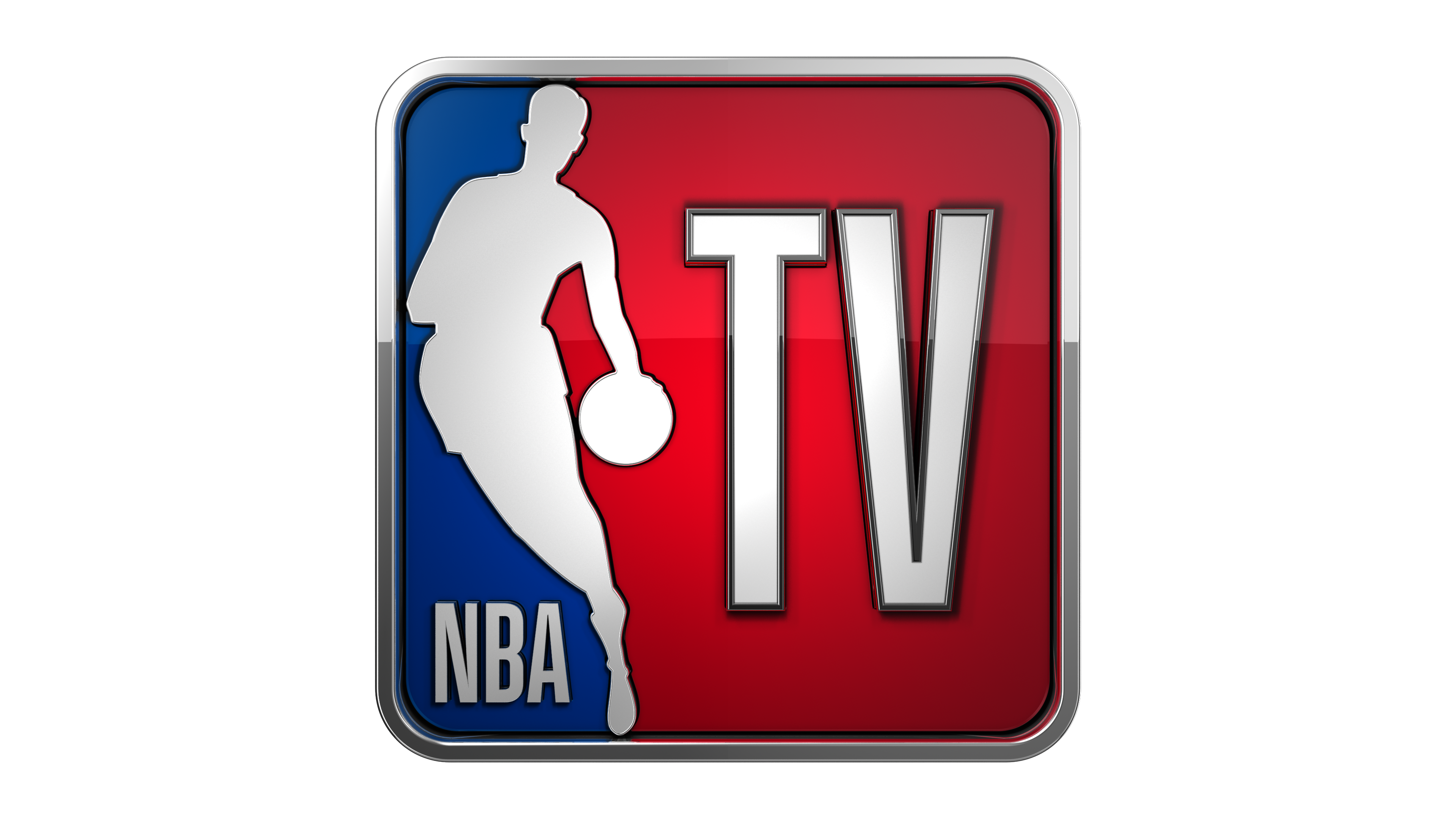 NBA TV Programming Highlights
NBA TV to Showcase Collection of League's Biggest Stars – Kia NBA MVP Russell Westbrook, Stephen Curry, Giannis Antetokounmpo, Kyrie Irving, Karl-Anthony Towns & More – in Three Doubleheaders Beginning Friday, Oct. 27, at 8 p.m. ET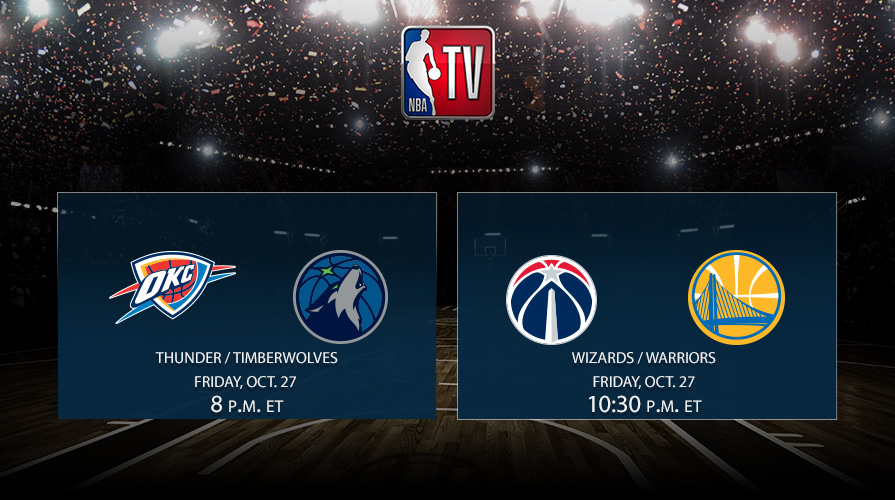 NBA TV's upcoming schedule will be highlighted by two appearances each from the defending NBA Champion Golden State Warriors and new-look Oklahoma City Thunder, including a showdown between the Thunder and the Milwaukee Bucks with current league leader in points per game Giannis Antetokounmpo as part of the network's featured Players Only game telecast (Tuesday, Oct. 31, at 7:30 p.m. ET).

The upcoming game lineup will begin with a doubleheader featuring the Thunder and 2017 Kia NBA MVP Russell Westbrook against the up-and-coming Minnesota Timberwolves and Karl-Anthony Towns, Friday, Oct. 27, at 8 p.m. Conference heavyweights will meet in the night's second game as the Washington Wizards and its one-two guard tandem of John Wall and Bradley Beal visit the Bay Area for their first matchup of the season against the Warriors, with two-time Kia NBA MVP Stephen Curry, at 10:30 p.m.

Live games will continue Monday, Oct. 30, at 7:30 p.m. with another inter-conference battle as the Boston Celtics and Kyrie Irving host the San Antonio Spurs and LaMarcus Aldridge. The nightcap will feature 2017 NBA Finals MVP Kevin Durant and the Warriors against Blake Griffin and the LA Clippers at 10:30 p.m.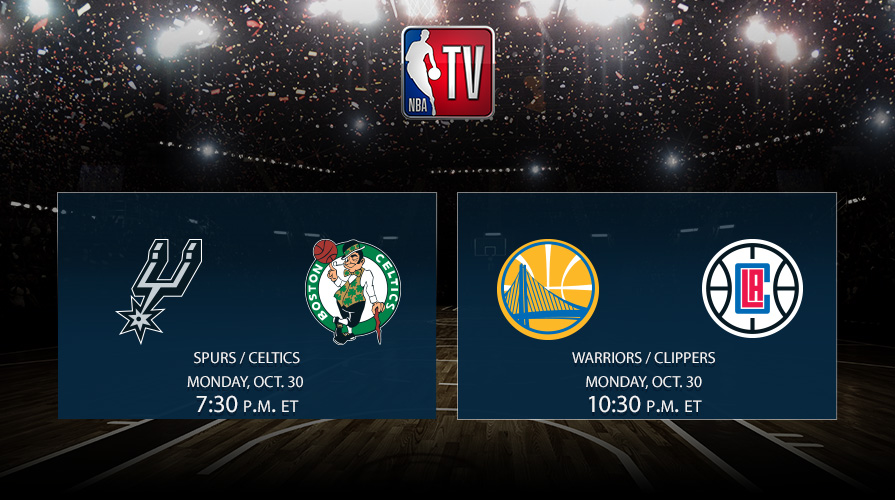 NBA TV's Players Only presented by Verizon – the innovative franchise that features former players in all commentator roles – will offer fans a matchup of two electric offensive talents as Westbrook and the re-tooled Thunder visit Antetokounmpo, the league's Eastern Conference Player of the Week, and the Bucks, Tuesday, Oct. 31, at 8 p.m. Coverage of this Players Only Marquee Game will begin with the Autotrader Pregame at 7:30 p.m. and feature studio analysis from Chris Webber, Isiah Thomas and Kevin McHale along with game commentary from Greg Anthony, Steve Smith and on-site reporting from Dennis Scott.

In the late game, NBA TV will present the Los Angeles Lakers and second overall draft pick Lonzo Ball as they host the Detroit Pistons with two-time All-Defensive Team honoree Avery Bradley at 10:30 p.m.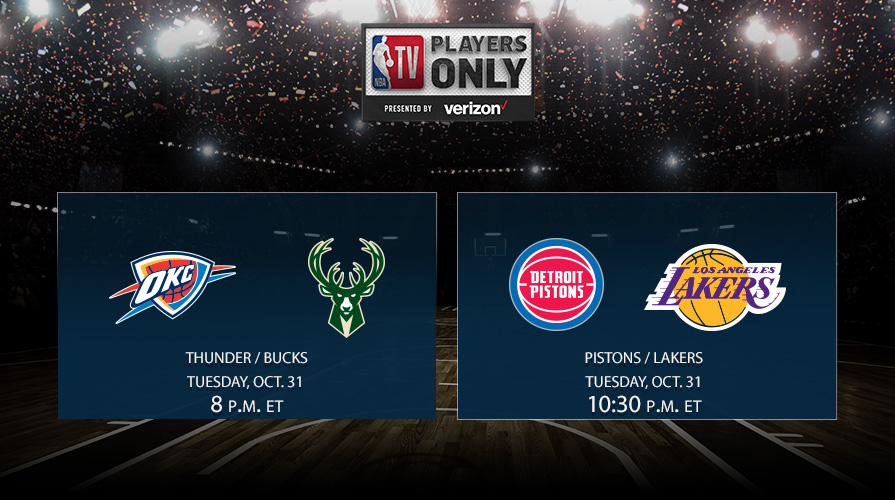 | | | | | | | | | | | | | | | | | |
| --- | --- | --- | --- | --- | --- | --- | --- | --- | --- | --- | --- | --- | --- | --- | --- | --- |
| P | R | O | G | R | A | M | M | I | N | G | | N | O | T | E | S |
| | |
| --- | --- |
| • | NBA TV's first three game telecasts this season are up 68% in total viewers with a 100% increase in People 12-17 and a 45% increase in People 18-34 versus last year. |
| • | NBA Inside Stuff, co-hosted by Kristen Ledlow and Grant Hill, will return with an all-new episode Saturday, Oct. 28, at 6:30 p.m. The latest edition will feature former Piston great Hill's return to Detroit as he tours the team's newly built arena and sits down with new roster addition Bradley. Next, the show will feature Ledlow's in-depth interview with the Dallas Mavericks' J.J. Barea, in which he talks about how he was able to work with the team to bring hurricane relief to his native Puerto Rico. Fans will also get a behind-the-scenes look at a workout with young rising star Malcolm Brogdon of the Bucks. |
| • | The network's half-hour 10 Before Tip studio show will continue to offer news, notes and the latest updates for what fans need to know leading up to the night's first game. Hosted by Jared Greenberg, the show will include guests from around the league, including reporters, on-air personalities and fantasy experts, airing regularly at 6:30 p.m. on weekdays. |
| • | NBA CrunchTime, which provides live whip-around game coverage for fans, will be televised Saturday, Oct. 28, at 10 p.m. The show will continue to offer live look-ins at the critical moments from each game on the air, allowing viewers to enjoy up-to-the-minute highlights within one show. NBA CrunchTime will more regularly air Wednesdays and Fridays at 9 p.m. throughout the season. |
| • | NBA TV's The Starters, the daily 30-minute studio show that recaps the most entertaining moments from around the NBA, is co-hosted by J.E. Skeets and Tas Melas, along with Trey Kerby and Leigh Ellis. New episodes will continue Monday-Friday, regularly at 7 p.m. The Starters Twitter Show will continue with new live episodes streaming Tuesdays at 11 a.m. |