NBA on TNT Doubleheader to Feature Dynamic Kawhi Leonard, Kyrie Irving, Kristaps Porzingis & Rookie Sensation Donovan Mitchell, Thursday, Dec. 21
Tuesday, December 19, 2017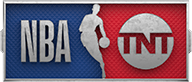 NBA on TNT Doubleheader to Feature Dynamic Kawhi Leonard, Kyrie Irving, Kristaps Porzingis & Rookie Sensation Donovan Mitchell, Thursday, Dec. 21
Network's Coverage Will Return for Special Christmas Night Telecast –
Timberwolves vs. Lakers – Monday, Dec. 25, at 10:30 p.m. ET
Thursday's NBA on TNT regular season doubleheader coverage will showcase two conference matchups, beginning with the Eastern Conference-leading Boston Celtics and All-Star Kyrie Irving visiting the New York Knicks and breakout star Kristaps Porzingis on Thursday, Dec. 21, at 8 p.m. ET. The San Antonio Spurs and two-time NBA Defensive Player of the Year Kawhi Leonard will take on the Utah Jazz and high-scoring rookie Donovan Mitchell in the network's second game at 10:30 p.m.
Following Thursday's doubleheader, NBA on TNT coverage will return on Monday, Dec. 25 and showcase a Christmas night telecast – Timberwolves vs. Lakers – with Ernie Johnson, Charles Barkley, Kenny Smith and Shaquille O'Neal calling their first ever game together at 10:30 p.m.
The network's live game schedule and telecast notes follow. Click on the below image for a video preview of Thursday's doubleheader.
| | | | | | | | | | | | | | | | |
| --- | --- | --- | --- | --- | --- | --- | --- | --- | --- | --- | --- | --- | --- | --- | --- |
| A | D | D | I | T | I | O | N | A | L | | N | O | T | E | S |
| | |
| --- | --- |
| • | Throughout Thursday's TNT coverage, Kevin Garnett will be joined by sharpshooters Rip Hamilton, Dale Ellis and Cappie Pondexter on Area 21. Select Area 21 segments will air on TNT, with additional content running on Facebook and Twitter. |
| • | Studio coverage from the iconic Inside the NBA team will be led by Ernie Johnson, along with Charles Barkley, Kenny Smith and Shaquille O'Neal throughout the night. |
| • | Marv Albert (play-by-play), Kevin McHale (analyst) & Ros Gold-Onwude (reporter) will call the Celtics vs. Knicks telecast at 8 p.m. |
| • | Brian Anderson will provide play-by-play for Spurs vs. Jazz, alongside analyst Greg Anthony and reporter Allie LaForce at 10:30 p.m. |
| • | Live streaming coverage of all NBA on TNT games is available via http://www.tntdrama.com/watchtnt and the Watch TNT app. Fans are able to access the games whenever and wherever they desire by logging in with the user name and password provided by their TV service provider. |
Visit the Turner Sports online press room for additional press materials


Media Contacts: Tony Morreale or Jay Moskowitz, Turner Sports PR

Twitter: @TurnerSportsPR
Facebook: NBA on TNT