NBA TV Programming Highlights: October 19, 2017
Thursday, Oct. 19, 2017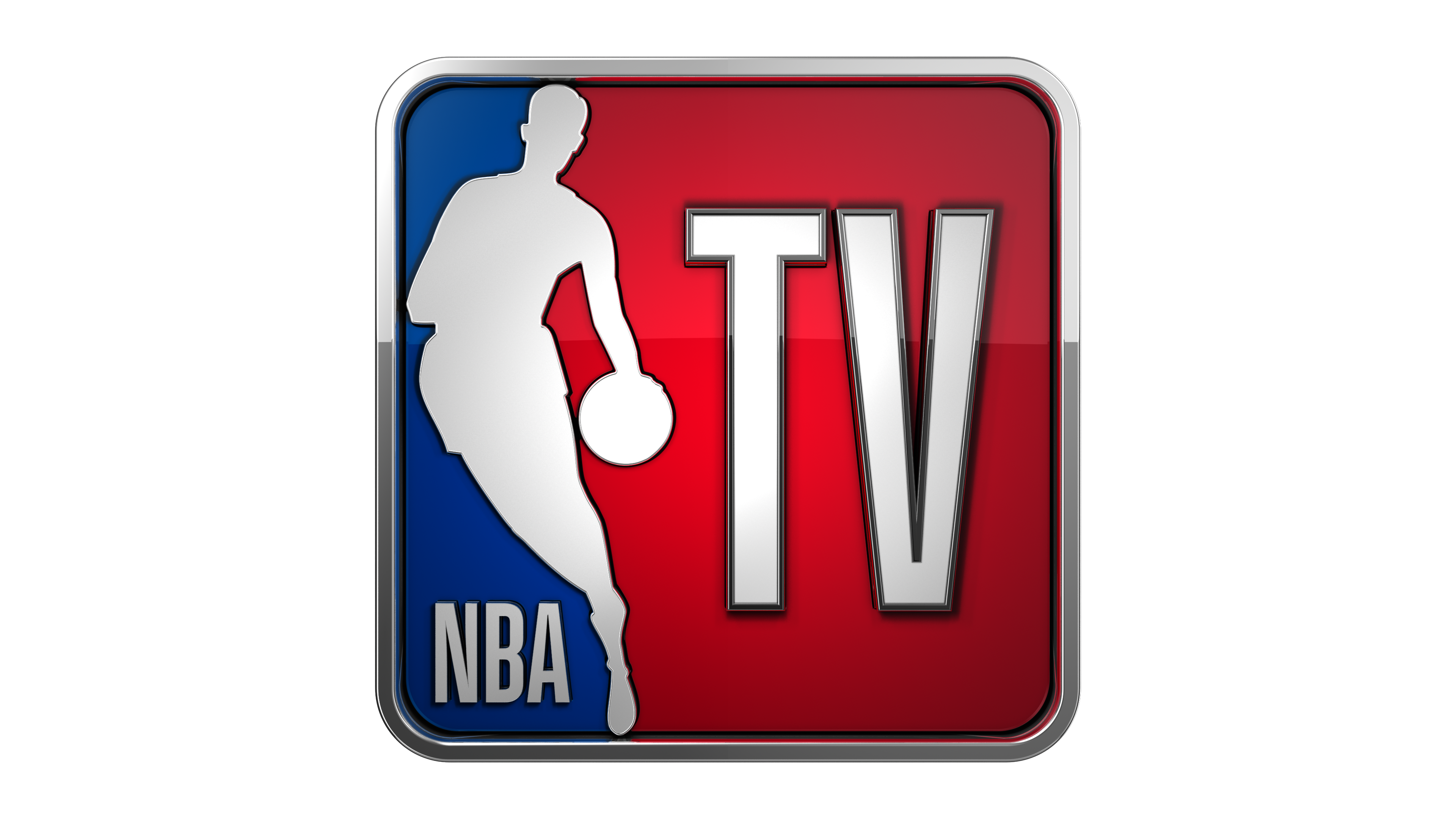 NBA TV Programming Highlights
NBA TV to Tip Off 2017-18 Regular Season with Network Debut of Players Only as Part of Five Games in Four Days, Including Marquee Doubleheader Featuring Defending Champion Golden State Warriors at Memphis Grizzlies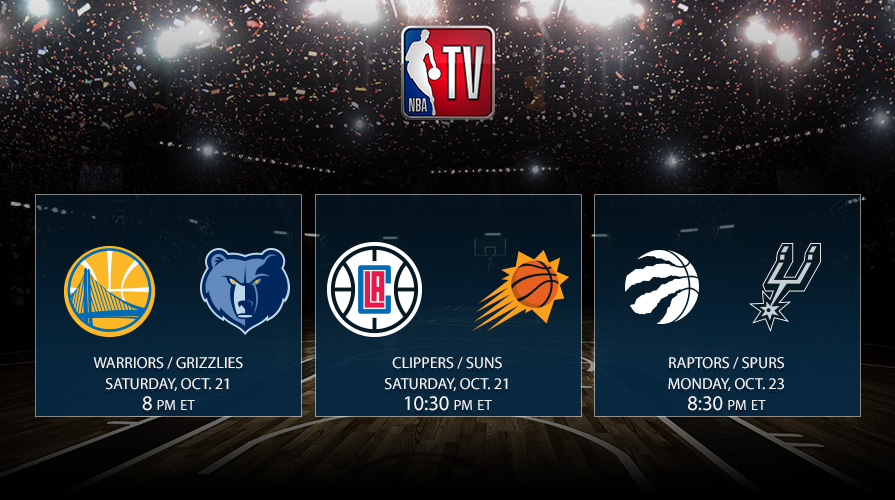 NBA TV will begin its 106-game regular season schedule Saturday, Oct. 21, at 8 p.m. ET with a doubleheader featuring the star-studded Golden State Warriors and 2017 NBA Finals MVP Kevin Durant against the Memphis Grizzlies and three-time All-Star Marc Gasol. The Phoenix Suns and the network debut of first-round draft pick Josh Jackson will highlight the nightcap as they travel to face five-time All-Star Blake Griffin and the LA Clippers at 10:30 p.m.

The network's live games will continue with a tilt featuring the Toronto Raptors and the dynamic guard combo of DeMar DeRozan and Kyle Lowry against the San Antonio Spurs and five-time All-Star LaMarcus Aldridge, Monday, Oct. 23, at 8:30 p.m.

Live games will then be featured on the network debut of Players Only on NBA TV presented by Verizon, the innovative franchise that features former players in all commentator roles. NBA TV's Players Only coverage will begin with the Autotrader Pregame, Tuesday, Oct. 24, at 6:30 p.m., hosted by Chris Webber with analysts Isiah Thomas and Kevin McHale, who will set up a doubleheader highlighted by three-time NBA Finals MVP LeBron James and the Cleveland Cavaliers with 12-time All-Star Dwyane Wade taking on Wade's former Chicago Bulls at 7 p.m. Greg Anthony and Steve Smith will call the Bulls-Cavaliers matchup – the Players Only Marquee Game – with sideline reporting from Dennis Scott. The dominant post duo of DeMarcus Cousins and Anthony Davis will highlight the night's second game as they lead the New Orleans Pelicans against Damian Lillard, C.J. McCollum and the Portland Trail Blazers at 10 p.m.

In addition to live games, NBA TV's signature NBA GameTime studio show, starring a legendary roster of former NBA greats, as well as a compelling lineup of original programming – including the season premiere of NBA Inside Stuff – will cement the network as the destination for fans seeking daily comprehensive coverage of Opening Week.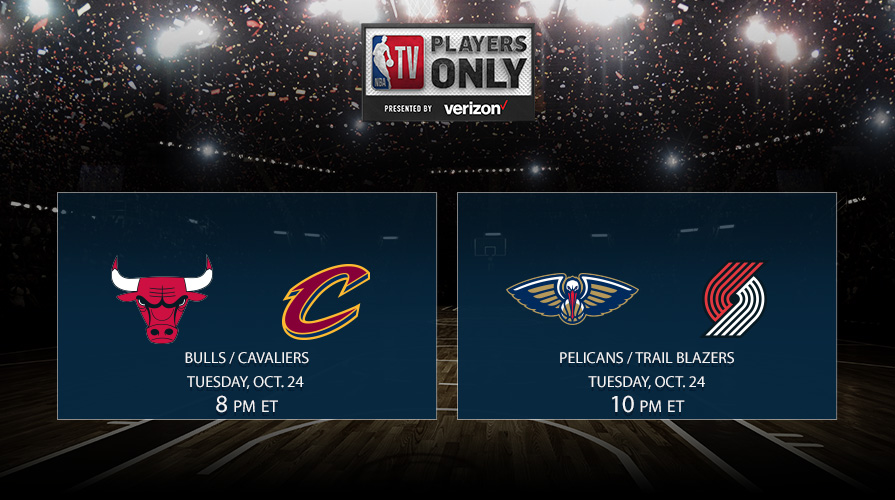 | | | | | | | | | | | | | | | | | |
| --- | --- | --- | --- | --- | --- | --- | --- | --- | --- | --- | --- | --- | --- | --- | --- | --- |
| P | R | O | G | R | A | M | M | I | N | G | | N | O | T | E | S |
| | |
| --- | --- |
| • | NBA Inside Stuff, co-hosted by Kristen Ledlow and Grant Hill, will premiere Saturday, Oct. 21, at 6:30 p.m. The all-access, fan-focused show will feature Ledlow's in-depth interview with Wade, as he reflects on being reunited with James in Cleveland. The premiere will also shine a light on Lillard and his growing rap career as he prepares for his sixth NBA season. The episode will catch fans up on some players' global offseason travel – including Leonard in China, Joel Embiid in Africa and Devin Booker in Mexico. Finally, cameras will follow the Brooklyn Nets on their team visit to the U.S. Naval Academy. Jam Session will feature "Thunder" by Imagine Dragons. |
| • | The network's half-hour 10 Before Tip studio show will continue to offer news, notes and the latest updates for what fans need to know leading up to tip-off. Hosted by Jared Greenberg, the show will include guests from around the league, including reporters, on-air personalities and fantasy experts, airing regularly at 6:30 p.m. |
| • | NBA CrunchTime, fans' ticket to the live final moments of every NBA game, will expand to one hour episodes – with the next episode airing Friday, Oct. 20, at 9 p.m. The show will offer live look-ins at the conclusions of each game on the air, allowing viewers to enjoy the highest-stakes periods in one show, all on NBA TV. NBA CrunchTime will air regularly on Wednesdays and Fridays at 9 p.m. |
| • | NBA TV's The Starters, the daily 30-minute studio show that recaps the most entertaining moments from around the NBA, is co-hosted by J.E. Skeets and Tas Melas, along with Trey Kerby and Leigh Ellis, with new episodes airing Monday-Friday, regularly at 7 p.m. The Starters Twitter Show will continue with new live episodes streaming Tuesdays at 11 a.m. |
Contact Jake Moskowitz or Mike Wade for questions or additional info

Twitter: @TurnerSportsPR
Facebook: NBA TV