ELEAGUE CS:GO Premier 2017 Live Playoffs Coverage Begins Tomorrow, Tuesday, Oct. 10

Monday, Oct. 9, 2017
ELEAGUE CS:GO Premier 2017 Playoffs To Feature Over 15 Hours of Live Multiplatform Coverage, Culminating with $500,000 Grand Final, Friday, Oct. 13 at 10 p.m. ET on TBS

Playoffs News & Notes
•LIVE PLAYOFFS COVERAGE: Turner and IMG's ELEAGUE CS:GO Premier 2017 will offer fans a suspenseful slate of live Playoffs action leading up to the nationally-televised Grand Final, Friday, Oct. 13, at 10 p.m. ET on TBS. Live coverage will begin with Day One of the Quarterfinals, Tuesday, Oct. 10, at 2 p.m. ET across Twitch, ELEAGUE.com and YouTube. The week will follow the same schedule for Day Two of the Quarterfinals and the Semifinals on Wednesday, Oct. 11, and Thursday, Oct. 12, across those digital platforms. The Premier's high-stakes final week will feature seven best-of-three matches, and will be played out across the single-elimination bracket shown above. The Premier Champion will earn the $500,000 winner's share of the event's $1 million prize pool.

•IT'S A PRO THING: ELEAGUE will add retired CS:GO star Janko "YNk" Paunovic to its commentating roster for the Playoffs. YNk will join Jason "Moses" O'Toole as the second former CS:GO pro contributing to ELEAGUE's live coverage. In 2014, YNk posted a 1.18 LAN player rating, which then ranked thirteenth in the world, according to HLTV. YNk and Moses will be part of ELEAGUE's popular panel of Counter-Strike experts including host Richard Lewis and commentators Anders Blume, Daniel "DDK" Kapadia, James Bardolph, Auguste "Semmler" Massonat and reporter Sue "Smix" Lee.
•TUESDAY'S SHOWDOWN: Tuesday's first Quarterfinals match will feature NA favorites Cloud9 against French squad G2 Esports, winners of three of their last four events. Cloud9's revamped team, led by recent addition Tarik "Tarik" Celik, will look to follow up on a dominant Group C performance in its first Playoffs with the new lineup.
•MAJOR PEDIGREE: The second match of the Quarterfinals will see Astralis play the same roster that won the 2017 ELEAGUE Major against Counter-Strike powerhouse FNATIC. FNATIC will be out to prove it has maintained its luster, despite having lost superstar Olof "Olofmeister" Kajbjer to FaZe Clan.

"Astralis earned a decisive victory [in Group D]. They are back in form, and maybe they can push away some of the talk of needing to change players [with continued success]."
– Anders Blume
ELEAGUE Commentator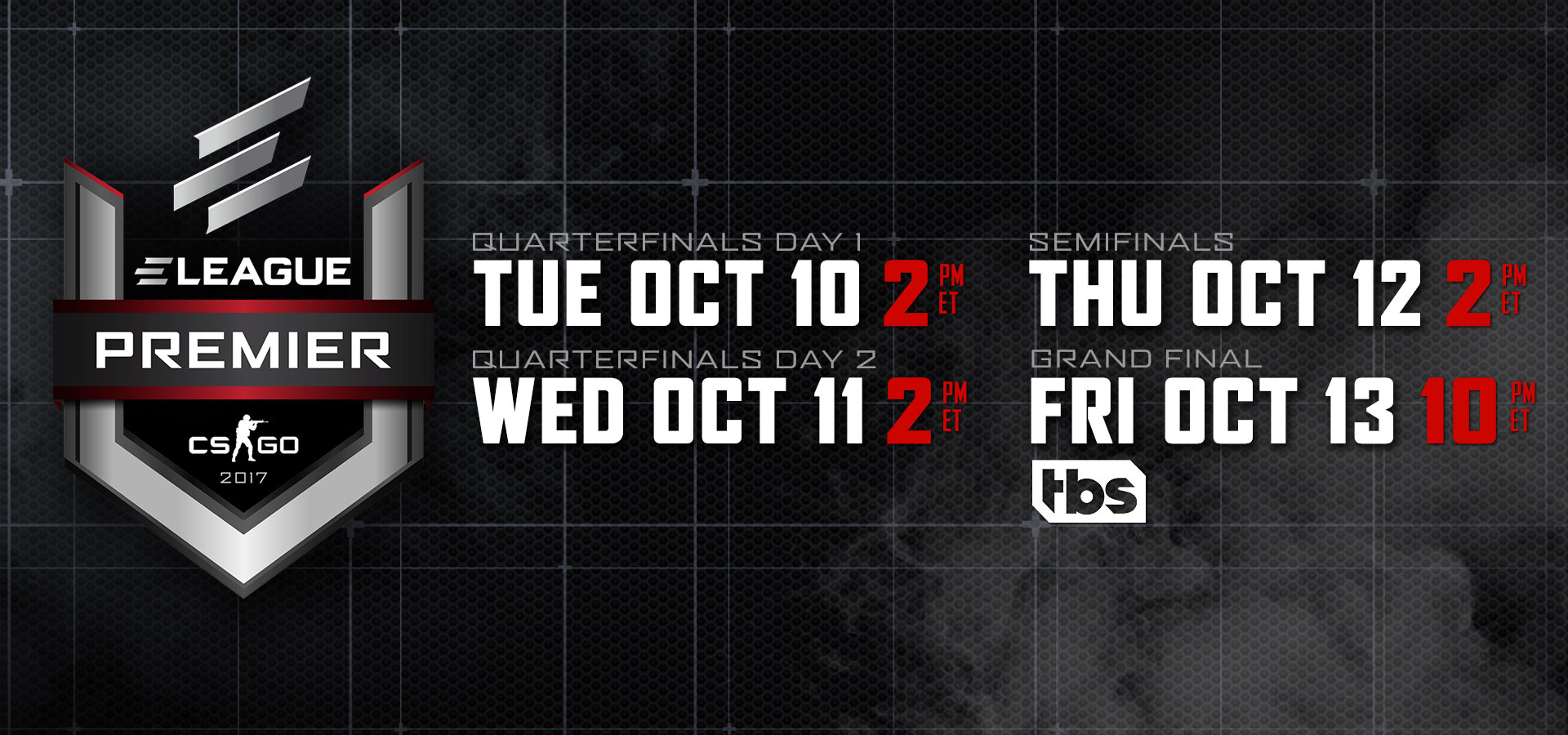 Featured ELEAGUE Videos
Group D Recap
SK Bonding
Jammin' Out
Catch up on the Premier's most recent group stage competition, which sent Astralis and Heroic to the Playoffs.
ELEAGUE's cameras tagged along with SK Gaming on a trip to play Whirly-Ball while competing in Atlanta.
Find out what types of music are on the pre-match playlists of superstar players from Astralis, Heroic, SK Gaming and Team Liquid.
Media Contacts:
Jake Moskowitz, Turner Sports, at (404) 575-6765 or jake.moskowitz@turner.com
Mike Scanlan, IMG, at (386) 843-0188 or mike.scanlan@img.com
Visit the Turner Sports online press room for additional press materials

Email: turnersportspr@turner.com
Twitter: @TurnerSportsPR
Facebook: ELEAGUE TV